Certainly, you'll find beautiful antiques at the Palm Beach/America's Fine Art & Antique Fair.  Such finds at the 2007 fair included an oval punch bowl once owned by Princess Marina, Duchess of Kent, that was from around 1795. Owned by Chinese export dealers Cohen & Cohen, this star piece sold in the six figures.
Phoenix Ancient Art exhibited outstanding antiquities, including an Egyptian granite torso of King Nepherities from the 29th Dynasty (399-393 B.C.) that was priced at $2 million. As Hicham Aboutaam, co-owner of Phoenix Ancient Art, said, "There is a lot of interest in every piece we have."
In addition to these traditional antique offerings, the fair saw some unusual collections as well. The 19th Century Shop from Baltimore, Maryland sold a collection of NASA memorabilia including documents that related to Apollo 11th first manned moon landing in 1969. Young artists were features for the first time at the fair, as well, including silversmith Sidsell Dorph-Jenasen and jewelry makers Cornelia Rating and Lily Hastedt.
When you purchase an antique, it certainly has financial value.  It should also, however, have aesthetic value.  You can enhance the look of your  home and enjoy the antique that you've purchased by kleeping a few key ideas in mind.  Antiques from Phoenix Ancient Art, and many other esteemed locations, can add depth, beauty and style to the home.
1. Frame your antiques.  Rather than simply filing away an antique coin or postcard, have it framed and place it on a prominent wall in the house.
2. Recreate a time period.  One great way to use an antique is to design the décor of an entire room around the antique. If you've purchased a large Medieval sword, create a look of Medieval elegance in the dining room and display the piece prominently.
3. Mix old and new.  For an eclectic look, shake up your antiques a bit.  Place an antique in a room with a modern décor, calling attention to the juxtaposition and emphasizing this impressive piece.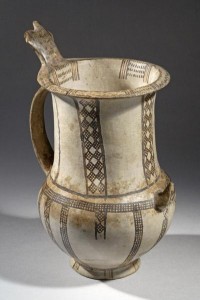 Certainly, most people know about the island Cyprus. They may not, however, know about the antiques that come from Cyprus and are called Cypriotic art and antiques.
These unique antiques, like those available at Phoenix Ancient Art, were part of a thriving culture in Cyprus from the 9th century B.C. until the Roman period. With its location in the eastern Mediterranean, Cyprus was able to be a melting pot of cultures and artistic talent, resulting in a fascinating style.
Cypriot art and antique includes pottery, stone sculptures and terracottas and they are delightful to look at and enjoy in the home.

Some people might find the idea of purchasing antiquities a bit intimidating. After all, prices are high, and the objects are extremely rare and often thousands of years old. However, the delight one experiences in being the custodian of such an ancient art object as it travels further along on its journey through the ages while simultaneously enjoying the object's unique beauty should overcome the fear of getting in on this life enhancing experience.
For those who are still hesitating, the brothers Aboutaam, Ali and Hicham, have made purchasing ancient art extraordinarily user-friendly. First of all, Phoenix Ancient Art galleries, located in Geneva and New York, are open to the public and NOT by appointment only. They publish catalogues and offer curated exhibitions of their collections. The Aboutaams have recently started e-tiquities to further simplify the acquisition of ancient art through the internet.
The most impressive service that the Aboutaams offer, which should set the most nervous potential collector at ease, is their guarantee. Phoenix will stand behind their product, even if it means a full refund on a million-dollar piece whose provenance turns out to be false.
Peter Chavkin of the law firm Mintz Levin, who has worked with the Aboutaams and others in the antiquities marketplace, explains that, "the Aboutaams have the wonderful approach of not sticking collectors with a piece that turns out to have problems."
Because of these practices business is booming at Phoenix Ancient Art, selling more antiquities at higher prices than the famous auction houses Christie's and Sotheby's.
So now there is no excuse not to get involved in a more active way with antiquities. Go get yourself a 4,000 year old statue. You'll be glad you did.
Just when you thought there could be nothing new in the world of ancient art, Phoenix Ancient Art, the renown gallery for rare and exquisite artifacts of the ancient world, brings to our hi-tech sensibilities instant access to the greatest and most beautiful expressions of by-gone cultures, via the internet.
Click over to e-tiquities, the innovative web-site initiated by Hicham and Ali Aboutaam, co-owners of Phoenix. Now you can join the world of ancient civilizations with just the pressing of a key on your keyboard.
Admire the huge variety of works, spanning time as long ago as the 6th millennium B.C.E. progressing to the 14th century A.D. The geographic spread is just as wide, with most objects coming from the great civilizations which flourished in the Mediterranean Basin and reaching west to the Iberian Peninsula and extending out to the Indus Valley in the east.
The internet together with Phoenix Ancient Art have expanded the reach of just about anyone so that they can be an active player in the world of collecting, admiring and being inspired by the rare and wonderful world of ancient art and antiquities.

Here we are, going on and on about antiquities and ancient art without having defined what it is that we mean by these terms. Interestingly this term does not have a precise definition, and what is "ancient" to one person may just be "old" to someone else. After all, it is not uncommon to refer to many apartments in New York City, or old people, or anything out of style as "ancient." But of course the word really means much older than merely "old." All kidding aside, what is the definition of antiquities?
Curiously, the date for what constitutes an object as "ancient" keeps getting pushed back in time.  For instance, in the 18th century something "Gothic" would have been considered "ancient art" although it may have only been 400-600 years old, whereas nowadays that same object, which is now actually 200-300 years older, is not considered to be "ancient" at all.
The "Departmant of Antiquities" at Christie's Auction House includes artifacts from "the dawn of civilization" until the "Dark Ages." The Dark Ages referring to the European Middle Ages beginning with the fall of the Roman Empire in the early 5th century and lasting until the 12th century. Later than that and your art object is merely "old."
Academics tend not to use the term due to its lack of precision. It is best to describe each individual object according to its date and place of origin. The term 'antiquities' may be imprecise, but we can all agree they are fascinating and worth our appreciation.
One of the more remarkable Museums in the world is the Egyptian Museum. It was originally built in Boulak in 1891, but was later moved to Giza Palace of "Ismail Pasha." In 1897 until 1900, during the reign of Khedive Abbass Helmi II, the Egyptian Museum as we know it today was constructed in Tahrir square in Cairo. On November 15, 1902 the museum opened its doors.
The Museum is comprised of 107 separate halls which are arranged in chronological order, with huge statues on the lower floor and smaller statues, mummies, jewels and the Tutankhamon collection on the floor above.
Egyptologists from all over the world consider this museum a must see. The museum hosts over one and a half million tourists each year, with an additional half a million Egyptian visitors, making this one of the most popular museums in the world.
For as long as humanity has attempted artistic expression of the world around it, the animal kingdom has been a primary object of this expression. The types of animals used by the ancients as models for their creative outlet can reflect not only the type of animals present in a particular culture, but also the way in which that culture related to various animal species. Which animals played a role of ritual life? Which were essential cogs in the economic machinery of the day? Fortunately, there are many and various form of animal representation available in existent antiquities. Beginning a modest collection of animal antiquities is as easy as finding a goat figurine.
In addition to object and figurines, ancient manuscripts and illustrations represent another fascinating area of the antiquities market. From medieval illuminated manuscripts with their distinctive illustrations to ancient texts with exotic lettering, manuscripts can be both intellectually stimulating and aesthetically pleasing. Purchasing a full manuscript can be quite pricey, but it is often possible to purchase one leaf, or two sided page. Of course, once you possess a manuscript or text for a bygone era, it is of course your duty to learn how to read from it, and understand its content. If you would like a catalyst to spur your interest in manuscript, try reading the gripping new novel People of the Book by Geraldine Brooks. This work of historical fiction inventively creates a back story for the remarkable manuscript known as the Sarajevo Haggadah.
How has the world-wide economic downturn affected the market for antiquities? Like much of the discussion about financial markets, the answer is not simple. See, for example this article –
http://www.artinfo.com/news/story/29786/antiquities-soar-at-sothebys-clank-at-christies/ – which discusses some recent high end antiquities auctions. The article quotes Hicham Aboutaam, the co-owner of Phoenix Ancient Art, who maintains that even in these times quality pieces with good provenance will still manage to fetch top dollar. It shouldn't be that surprising that quality antiquities hold their value over time – they certainly have been around long enough!