Archive for October, 2010
Thursday, October 21st, 2010
Hicham Aboutaam and Ali Aboutaam, co-owners of Phoenix Ancient Art,  welcome all contributions that further our knowledge about the ancient world.  That is why it is such good news to learn that Google and the Israel Antiquities Authority are working together to digitalize the 2000-year-old Dead Sea Scrolls.  It is a tremendous undertaking since the Collection includes some 30,000 fragments of the scrolls.  The project will make the scrolls accessible to everyone with a computer and will preserve our heritage for future generations.
Friday, October 15th, 2010
Rarities on the stand of Phoenix Ancient Art include:
Emperor Antoninus Pius (138-161 A.D.) [detail] 
Bronze Roman, second half  of the 2nd century A.D. Preserved  H: 115 cm. (45.3 in.)
The statue is in a remarkable state of preservation, despite its loss of the arms and legs. Parts of it have a beautiful light bluish-green patina, while the rest retains the dark brown coloring of the original bronze. Unlike many ancient statues, this one is fully modeled on all sides.  The figure is a larger-than-life size male adult shown in heroic nudity. The presence of several small holes on the top of the head, as well as the remains of lead on the hair above the forehead, suggests that the figure once wore a crown.   The head of the statue is clearly a portrait, presumably one of an emperor, Antoninus Pius,  and the sculpture was most likely made during his 23 year reign.  Under his rule the Roman Empire enjoyed peace and prosperity.  Antoninus Pius is one of the so called "Five Good Emperors" : the others were Nerva, Trajan, Hadrian, who preceded him, and Marcus Aurelius, who succeeded him..
Tuesday, October 12th, 2010
PHOENIX ANCIENT ART TO EXHIBIT IN NEW YORK IN OCTOBER AT THE INTERNATIONAL FINE ART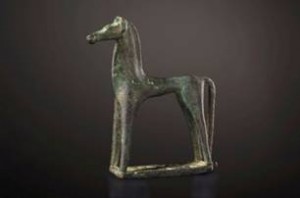 Rarities on the stand of Phoenix Ancient Art include:
The horse dates from the Geometric Period, 10th to 8th century B.C.  The period was the time great cultural advancement: Homer and the rise of epic poetry and the development of the visual arts. Bronze figurines were produced, depicting people, animals and birds. Representations of horses are among the most familiar symbols in the Geometric iconography. A great number of bronze horses such as this one were used as votive offerings in temples and sanctuaries. This small, stylized, and charming horse is standing upright, his head proudly raised. His chest and neck reveal his .power and his small head is delicately modeled in great detail.